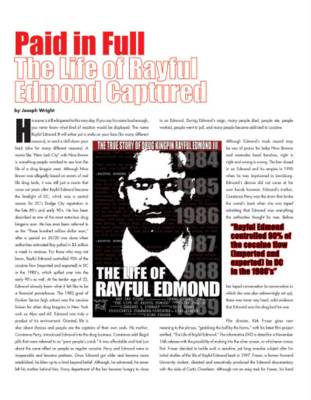 Written by Joseph Wright

His name is still whispered to this very day. If you say his name loud enough, you never know what kind of reaction would be displayed. The name Rayful Edmond III will either put a smile on your face (for many different reasons), or send a chill down your back (also for many different reasons). A movie like "New Jack City" with Nino Brown is something people watched to see how the life of a drug kingpin went. Although Nino Brown was allegedly based on events of real life drug lords, it was still just a movie that came out years after Rayful Edmond became the limelight of DC, which was a central reason for DC's Dodge City reputation in the late 80's and early 90's. He has been described as one of the most notorious drug kingpins ever. He has even been referred to as the "Three hundred million dollar man," after a special on 20/20 was done when authorities estimated Ray pulled in $2 million a week in revenue. For those who may not know, Rayful Edmond controlled 90% of the cocaine flow (imported and exported) in DC in the 1980's, which spilled over into the early 90's as well. At the tender age of 22, Edmond already knew what it felt like to be a financial powerhouse. The 1982 grad of Dunbar Senior high school was the cocaine liaison for other drug kingpins in New York such as Alpo and AZ. Edmond was truly a product of his environment. Granted, life is also about choices and people are the captains of their own souls. His mother, Constance Perry, introduced Edmond into the drug business. Constance sold illegal pills that were referred to as "poor people's crack." It was affordable and had just about the same affect on people as regular cocaine. Perry and Edmond were in inseparable and became partners. Once Edmond got older and became more established, he blew up to a level beyond belief. Although, he advanced, he never left his mother behind him. Every department of the law became hungry to close in on Edmond. During Edmond's reign, many people died, people ate, people worked, people went to jail, and many people became addicted to cocaine.
Although Edmond's track record may be one of praise for baby Nino Browns and wannabe head honchos, right is right and wrong is wrong. The law closed in on Edmond and his empire in 1990 when he was imprisoned in Lewisburg. Edmond's demise did not come at his own hands however. Edmond's mother, Constance Perry was the straw that broke the camel's back when she was taped admitting that Edmond was everything the authorities thought he was. Before her taped conversation (a conversation in which she was also unknowingly set up), there was never any hard, cold evidence that Edmond was the drug lord he was.

"Rayful Edmond controlled 90% of the cocaine flow (imported and exported) in DC in the 1980's"

Film director, Kirk Fraser gives new meaning to the phrase, "grabbing the bull by the horns," with his latest film project entitled, "The Life of Rayful Edmond." The informative DVD is slated for a November 16th release with the possibility of making it to the silver screen, or whichever comes first. Fraser decided to tackle such a sensitive, yet long overdue subject after his initial studies of the life of Rayful Edmond back in 1997. Fraser, a former Howard University student, directed and executively produced the Edmond documentary with the aide of Curtis Chambers. Although not an easy task for Fraser, his hard work and dedication to such an influential figure (Edmond) will not go un-noticed in and out of the DC area. Fraser experienced extensive research on the subject and kept the DVD as professional as any filmmaker should. Pointing fingers and calling names is an avenue that Fraser did not care to explore with such a controversial figure. It does not even matter to Fraser if people felt that Rayful Edmond was a benevolent or diabolical person. His purpose is much more abysmal. "This is the first real movie made about DC," replies Fraser, when asked about his motives for making such a film.
Fraser is not trying to discredit any other person that may have compiled resources about Rayful Edmond. This is simply the way he chooses to tell the story. When asked what exactly the DVD will touch on, Fraser stated, "It's about his [Edmond] rise and fall in the game. How he made it and what brought him down…it's just so deep." Fraser feels that it is his duty to touch bases on a story that is so much a part of DC history. The history of DC runs deeper than what schoolbooks only wish they could print. The DVD explores three major aspects of the life of Edmond. The first thing is the media. The media has always described Edmond as a cold-hearted villain who poisoned the streets of DC with drug activity. It's only right for the media to pass judgment and point out the negative of any situation. The media is cut and dry with no in-between. They're either your worst enemy or your best friend. The media is definitely a foe to a person like Edmond. However, the street has its own opinions as well. The street is the second aspect of what the DVD conquers. Edmond means different things to different people even to this very day. A lot of questions will always be raised when it comes to his situation. To some, he was a provider and a genuine person who could make friends with anybody. His personality was very strong and respected. He was man of morals in his own right whom deeply cared for his family and possessed an undying love for his mother. He was very giving especially to the youth of DC. A person that was very unselfish when money was literally not an object to him. On the flip side, Edmond also was a businessman. Granted, he chose an illegal source of business. To some, Edmond is a sell out, a snitch, a person that was feared because of the power he possessed over his business and even other people.
The third aspect of the DVD touches on Edmond's life. A display of the kind of person he really was back when reigned. People on the outside will always see things differently from the person who is actually in a situation. Negative comments about his life can raise very serious questions such as: Why did he snitch on people? Did he really snitch? Did authorities and the courts trick him? What was he going to get out of cooperating with the authorities? Did he ever fear for his life? Why was he mean? Why did he continue to poison the community? You never quite know a person's situation unless you get the opportunity to walk in their shoes.
Even today, the whereabouts of Rayful Edmond, who will be 40 this year, are unknown. Edmond is not an angle, nor is he the devil. Most importantly, he is not a fictitious character in a movie that people sit around and talk about at a campfire. Rayful Edmond is a real person. He may be a different adjective to different people, but he is definitely an urban (DC) legend whose true-life story is far from an imaginary hood myth. Be sure to log on to www.may3rdfilms.com for more information on this exclusive DVD, Kirk Fraser, and the life of Rayful Edmond.