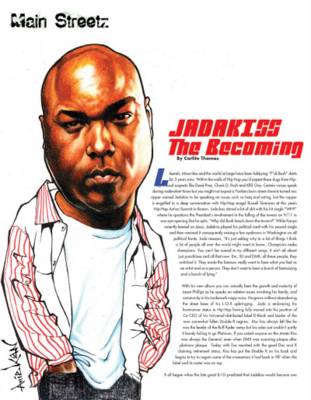 By Carlito Thomas

Liberals, Minorities, and the world at large have been lobbying "F*ck Bush" darts for 4 years now. Within the walls of Hip-Hop you'd expect these slugs from Hip-Hop's usual suspects like Dead Prez, Chuck D, Rush and KRS One. Certain voices speak during malevolent times but you might not expect a Yonkers born street chemist turned mic ripper named Jadakiss to be speaking on issues such as Iraq and voting, but the rapper is engulfed in a deep conversation with Hip-Hop mogul Russell Simmons at this years Hip-Hop Action Summit in Boston. Jada has stirred a lot of shit with his hit single "WHY" where he questions the President's involvement in the falling of the towers on 9/11 in one eye-opening line he spits, "Why did Bush knock down the towers?" While Kanye recently leaned on Jesus, Jadakiss played his political card with his second single and then remixed it consequently raising a few eyebrows in Washington on all political fronts. Jada reasons, "It's just asking why to a lot of things I think a lot of people all over the world might want to know...Champions make champions. You can't be scared to try different songs. It ain't all about just punchlines and all that now. Em, 50 and DMX, all these people, they switched it. They made the listeners really want to hear what you feel as an artist and as a person. They don't want to hear a bunch of fantasizing and a bunch of lying."
With his new album you can actually hear the growth and maturity of Jason Phillips as he speaks on relative issues involving his family, and community in his trademark raspy voice. He grows without abandoning the street base of his L-O-X upbringing. Jada is embracing his frontrunner status in Hip-Hop having fully moved into his position of Co-CEO of his Universal-distributed label D-Block and leader of the now somewhat fallen Double R regime. Kiss has always felt like he was the leader of the Ruff Ryder camp but his sales just couldn't justify it barely failing to go Platinum. If you asked anyone on the streets Kiss was always the General, even when DMX was scanning plaque after platinum plaque. Today with Eve reunited with the good Doc and X claiming retirement status, Kiss has put the Double R on his back and begins to try to regain some of the momentum it had back in 98' when the label and its roster was on top.

"Champions make champions. You can't be scared to try different songs"- Jadakiss

It all began when the late great B.I.G predicted that Jadakiss would become one of the greats. It was never the flow or respect but the sales and lack of hit singles that have always held Kiss back from crossing over from the hood into mainstream success like most of today's major selling artists. Jadakiss agrees by saying, "If anybody ever followed my career, I was always categorized as one of the top spitters, my rough voice, and my delivery set me aside from everyone else. It just seemed like it was always something missing…But this time I'm going to make sure all the chips are in place." Kiss's first solo effort was slowed down by politics. Politics as in Sean "P-Diddy" Combs his former label head. As Kiss tells it back in '99, on the tail end of their "Let the Lox Go" campaign, an attempt at getting off of the Bad Boy Roster. Ruff Ryders forked over 3 million dollars to provide Jadakiss, Sheek, and Styles of the Lox to get out of their Bad Boy contracts. In addition Puff added a clause in the contract release stating that he was to receive $300 G's off of Kiss's first solo album. Talking about a dent in your budget! If you check the credits of "Kiss tha Game Goodbye" you will see publishing credits for Puff's publishing company Justin Combs (named after his son). It was also rumored that upon releasing the Lox from their contract they could not say Puff's name on any tracks! Kiss holds no ill feelings towards Puff for the moves that were made calling him a "paper gangster." But Kiss knows that Puff is a great business man, and "I respect that" says Kiss. He feels differently about DMX, both being from Yonkers you would think they would see eye to eye on a lot of things but that clearly is not the case. "Me and X used to have a lot of ups and downs, we could be cool sometimes and not be speaking one another," he says. Ironically, Kiss and the Dark Man has since squash the beef as they seen each other at the Jones vs. Tarver fight in Las Vegas a few month back. "We kicked it and sat down on some grown man stuff and squashed it" states Kiss.
On his first album he made a bold statement claiming that he was the, "top 5, dead or alive and that's after one LP". But he may soon be able to back that claim as his 2nd album "Kiss of Death" debuted at number 1 on the Billboard charts and in the past year he was continually in the listener's ears via a slew of stand out, cameo verses. Jada insists that B.I.G, Rakim, Eminem and other greats have already penned him as one of the best and that they won't be let down. One thing is for sure he will never let the streets down.